Get Clear, Bright and Acne/Blemish-free skin with a DIY Face Mask
11:04:00 AM
Do you have oily/combination skin?
Do you suffer from acne, acne scars and/or blemishes?
Or maybe you just want brighter, more youthful looking skin?


It works amazing against acne, blemishes, dark circles, anti-aging and many more.
The best part, is you probably already have all the ingredients in your kitchen.
If you don't, fret not because you can probably find it in your regular supermarket.


An easy DIY face mask that's packed with all these ingredients is sure to target many skin problems all at once.
You can probably find many versions of this online, but this is usually how I do mine.
What you need:
1/4 tbsp Turmeric
1/4 tbsp Rice flour
1 tbsp Plain, unsweetened yogurt
1/4 Lemon, juiced
This is the main ingredients for your mask. You can add other ingredients as well such as honey, or milk.
I decided to add some tea tree gel this time, since I didn't have tea tree oil.
Turmeric: Antiseptic & antibacterial to reduce acne | Anti-aging | Reduces growth of facial hair | Contains antioxidants that improves skin's elasticity | Lightens pigmentations/blemishes | Helps control excess sebum
Rice flour: Brightens the face and promotes skin repair | Acts as a gentle exfoliator by scrubbing away dead skin cells for smoother skin
Yogurt: Contains lactic acid (a natural AHA) that smoothes and exfoliates skin | Contains natural antibacterial properties that get rid of acne | Prevents pre-mature aging | Reduces discolouration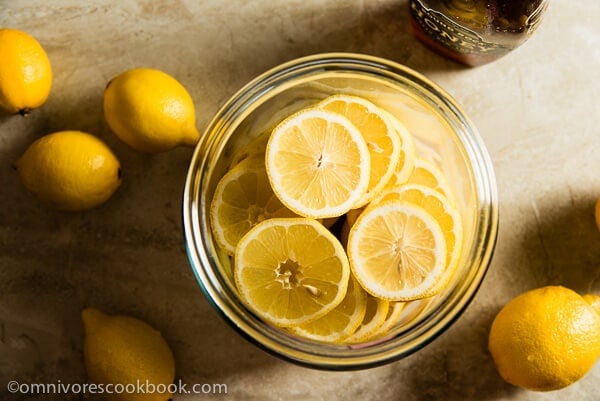 Lemon: Lightens blemishes/pigmentation | Packed full of Vitamin C to brighten the face | Natural anti-bacterials that heals acne | Eliminates shine but reducing excess oil
Tea Tree: Well-known antibacterial that works great against acne
Mix all the ingredients in a bowl/container.
(Keep this in the fridge, this amount is usually enough to last me for about 5 days)
Remember to thoroughly remove any makeup and wash your face.
You wanna start off with a clean face so your skin can easily absorb all the nutrients.
Apply mask onto face. It's easier if you use a brush.
You wanna avoid places like your eyebrows and your hair line because turmeric prevents hair growth.
Leave it for about 30 minutes, and it usually dries up like a clay mask.
Wash the mask off with warm water.
While you're washing it off, you'll be able to feel the ground rice flour so gently scrub your face in circular motions.
Use a toner to tone your face as well as wipe away the yellow residue from the mask.
I use my Etude House's Wonder Pore Freshner and it does an amazing job.
If you'd like to read my review on Etude House's Wonder Pore Freshner then click here.
Your face will still be slightly yellow after using this mask so I'd suggest doing this right before you sleep or at least when you know you're not gonna be going out.
And that's all! I hope you try this mask and love it as much as I do.